Once your site is ready, you can start working with it.
To log in to the WordPress admin panel, click on the Login button on the site card. It will automatically redirect you to the WordPress Admin dashboard.
Clicking on the link in the site card will open a preview. Only Indystack users can overview Unpublished sites. To share the site with someone without access, use the Share preview link in the site card menu.
To manage your site, click on the Manage button.
To access your wp-admin panel directly in a browser, you can also use the following link format. https://yourdomain.com/is-admin
https://yourdomain.com/wp-login.php (and other default WP variations) will no longer work and if you try to access them you will see a 403 forbidden error.
In the Manage site section, you can modify your site, assign a domain, access your WordPress dashboard, edit themes & plugins or transfer the site to your client.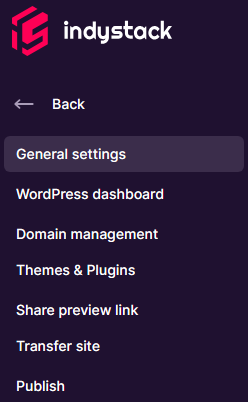 Assign custom domain
Navigate to Domain management, add your custom domain, and follow the instructions to point records.
After successful domain connections, Indystack will update your site with the help of automatic deployment.
Themes & Plugins
You can review, edit and update your themes and plugins from the Indystack admin panel directly.

Transfer site to a client
Indystack offers a one-click transfer process. As the site is ready to be published you can transfer the ownership of your site to the client. The client will handle all the billing while you will still have access to the site in order to make changes and provide maintenance services.
To transfer site, click on Transfer site and enter your clients' email. Your client will receive an invitation to claim ownership of the site. After successful registration and payment, the site will be published.

Publishing
To Publish your site, click on the Publish button in the site management menu.
You will be redirected to the checkout page to confirm your subscription. Please note that VAT (or taxes for your applicable region) may vary and thus the final price may be different in your region.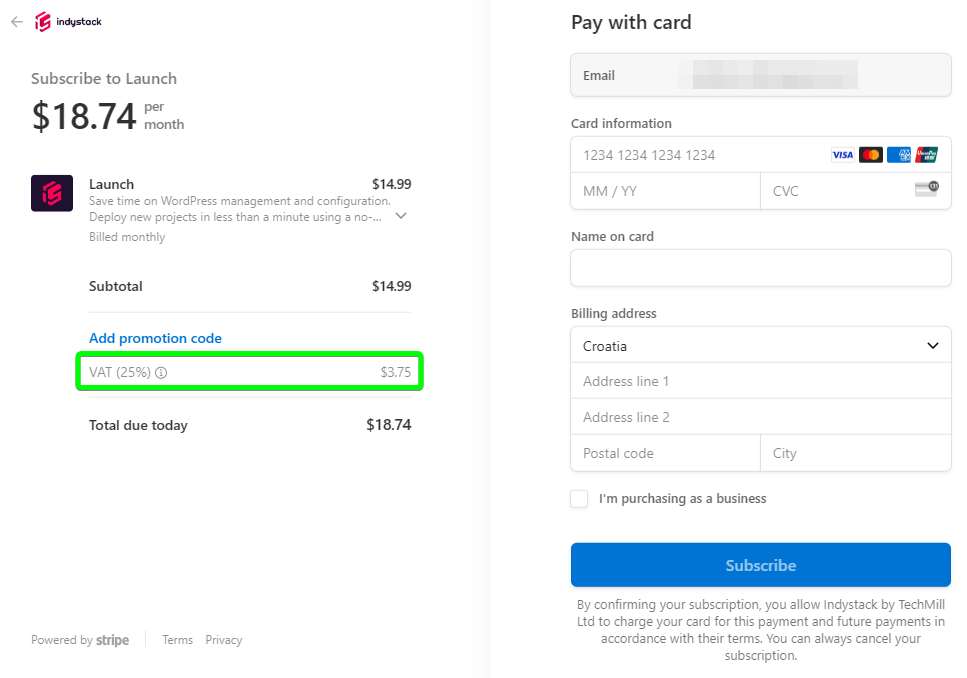 If you are signing up as a business, and are VAT-exempt for example, you must click the "I'm purchasing as a business" option under your card details and provide the required VAT information.